Explore the C-Researcher
The C-Researcher series offers scientists, researchers, documentary makers and explorers the most outstanding submersibles ever built. Apart from the fact that these versatile submarines are ideally suited for research, their view, efficiency and speed make them also perfect for those who simply wish take in the views of the deep sea. The eight different submarines in the C-Researcher series let private explorers and researchers pick the most suitable submersible for their mission objectives.
Maximum manoeuvrability and speed
The C-Researchers utilise U-Boat Worx' latest Pressure-Tolerant Lithium-ion battery system. This new battery technology offers up to 100% more capacity than traditional private submarines. A total capacity of 62 kWh allows the C-Researcher series to extend mission time and minimize operational limitations. Abundant power has made it possible to apply more and stronger thrusters on our C-Researchers. Speed both on the surface and underwater are important to keep the sub on course and in position. Another advantage is that greater depths can be reached in record time. The C-Researcher series is without peer.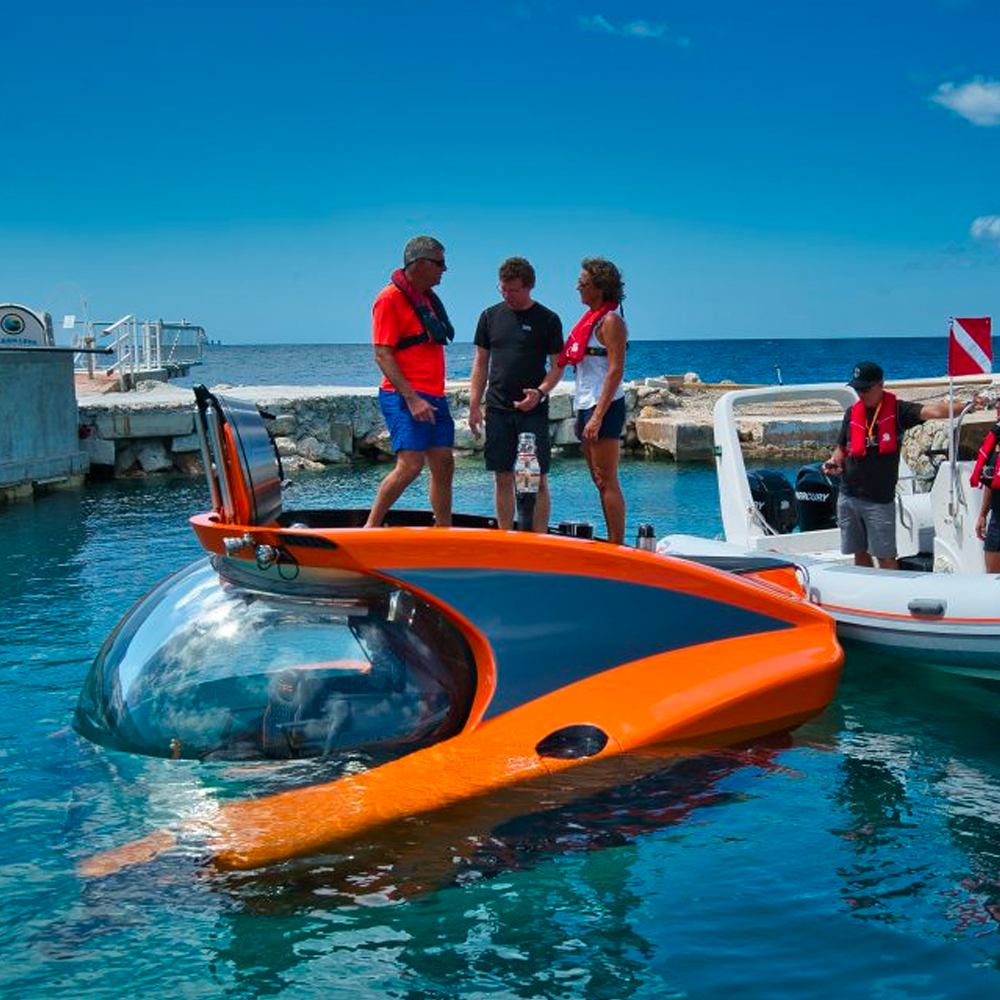 Occupancy
1 passenger – 1 pilot
Dimension
Lenght: 319 cm, Width: 280 cm, Height: 214 cm
Propulsion
4 X 5.5 kW 2 X 6.4 kW
Unimpeded view
To experience the underwater world in the optimal way, one of U-Boat Worx' design priorities has always been the clearest view. To ensure this, our remarkably clear fully acrylic pressure hull has been positioned at the front of the submersible, providing an unobstructed view in every direction, unimpeded by ballast tanks, batteries and other components.
Ever-ready
Some may believe that getting a submersible ready to dive is a time-consuming operation. However, Owners of U-Boat Worx submersibles know that their submarines are simple, efficient and easy to launch and recover. Pre-dive preparations are swiftly executed by our effective design, state-of-the-art software and smart checklists that ensure your submersible is ready to dive whenever you are.
Uncompromised surface capabilities
The C-Researcher is highly stable yet deftly manoeuvrable on the surface. These are very important characteristics for easy boarding of the sub. Nobody gets wet feet while embarking or disembarking the C-Researchers! Ergonomic and strategically placed handrails, grips and steps help explorers young and old to board safely and comfortably.
Effortless control
Each U-Boat Worx submersible is delivered with a world-class pilot training course. The intuitive interface of our submersibles is easy for pilots to learn. Unique to the U-Boat Worx private submarines is passengers being able to navigate the submersible while under supervision of the pilot. The unique control device – the MANTA Controller – can simply be handed over by the pilot to his guests for a once-in-a-lifetime opportunity to personally steer a submarine.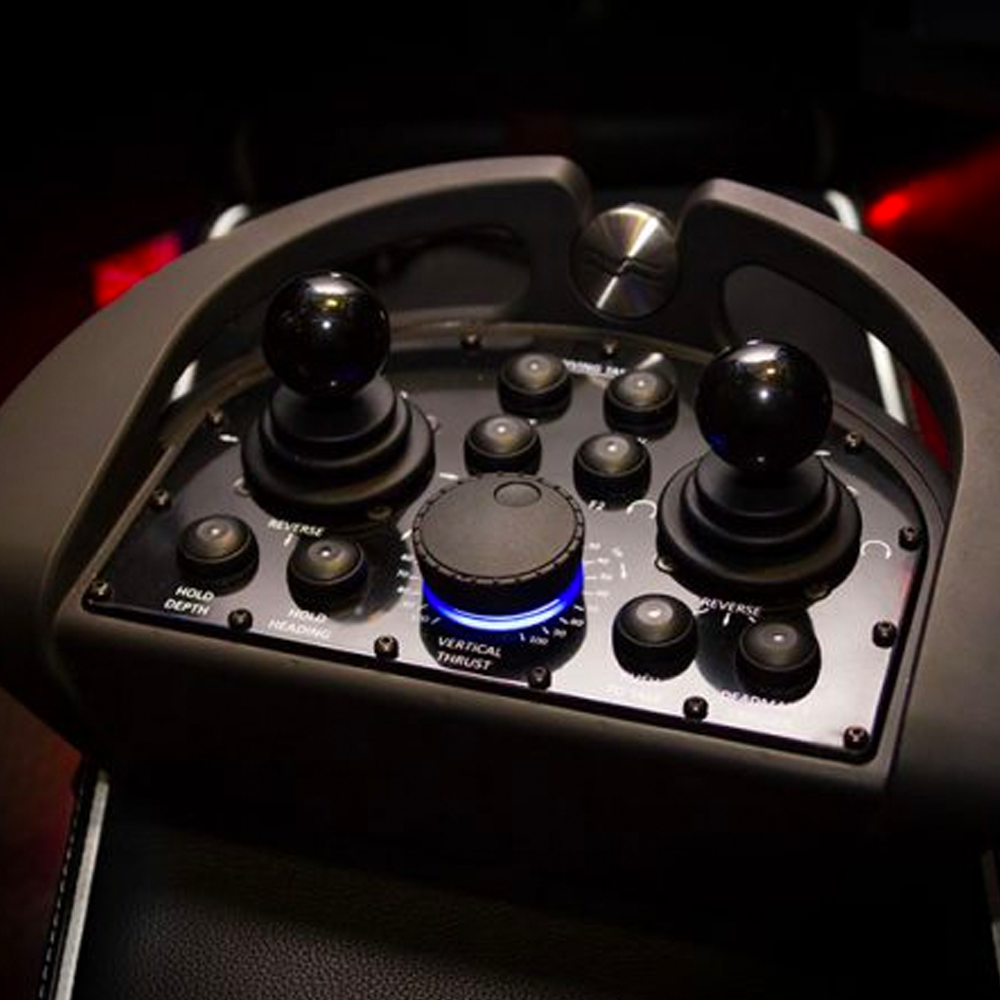 Carefree launch & recovery
When designing each model, U-Boat Worx factors in a variety of specific solutions to ensure safe and effortless launch and recovery from any type of support vessel. The C-Researcher is no exception. Its single lifting point allows for safe and quick launch and recovery. Man-riding certification is standard to support lifting operations to take place with people inside the submersible, if desired.
Another unique feature of each U-Boat Worx submersible is the MARLIN Controller. This wireless remote control allows the operator or pilot to steer the submarine while it is on the surface – effortlessly guiding the sub away from, or back to, the support vessel.
Low height models
The C-Researcher series feature two special low height models designed to easily fit aboard most super yachts. The C-Researcher 3 LH – 500 has an impressive height of 185 cm and is capable of diving to depths of 500 meters, while the C-Researcher 3 LH – 1700 is only 230 cm tall and can travel to depths of 1700 meters. Both subs can carry 2 passengers and 1 pilot and can stay submerged for up to 16 hours.
Red dot design award
"C-Researcher 3" submersible has won a Red Dot Product Design Award. The international design competition – the "Red Dot Design Award" – is aimed at those who wish to distinguish their business activities through design. Outstanding design is selected by competent expert juries in the areas of product design, communication design, and design concepts. "Winning a Red Dot Product Design Award for the second consecutive year in a row is a crowning achievement for our company," said Bert Houtman, Founder and Chairman of U-Boat Worx. "It reinforces to our clients that our products are world class."
DISCOVER NOW! RESERVE / MORE INFO