Company
Build4performance was born out of the love for motorsports. In 2014 the owner Martijn van der Woord (ex Marine Corps and later he joined Vobis computer store)  started building his own first GT Simulator. In 2019 Martijn took the plunge to invite Robert Doornbos (Former Dutch F1 driver) for a test drive. Robert was very enthusiastic and the idea for a F1 simulator was born. Since March 6th 2020 the F1 simulator was shown live on Ziggo Sport at the TV show F1 cafe  evenry Friday evening.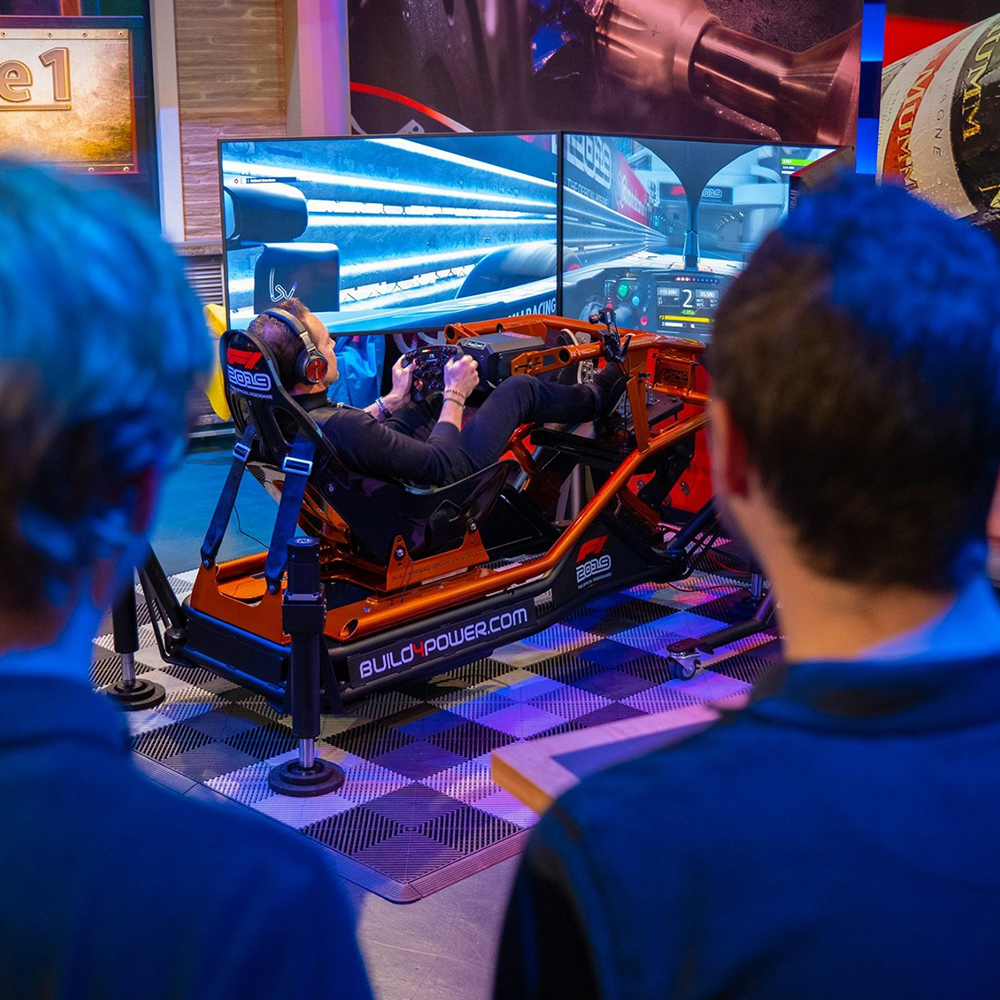 Maximum speed
± 250 mm/sec
Actuator orientation
Vertical/linear
Available for
110V or 230V electrical system
Motion actuators kit (4x actuators)
150 mm lift
Temperature range
0-65 degrees
Max. lifting capacity
500 KG
Max. Watt per Actuator
750W
Seat weight capacity
Up to 150 kilograms
Dimensions f1 motion
L 208 cm x W 100 cm x H 122 cm
Race Simulators
Buil4Performance Race Car Simulators are specially designed for professionals who want high quality training at home and alsof or racing enthusiasts who want to experience the real racing experience in a simulator.
Who doesn't dream of racing around the circuit every day in a Formula 1 or GT car? Just start your simulator and you'll be at the start of Zandvoort, Spa, Monaco or whatever track you want: within seconds! 
Realistic Simulation Hardware
If you want the best of the best, you need a simulator that gives you the most realistic experience. The seat, the frame, the steering wheel, the brakes: Build 4Performance provides only the best of the best.
Build 4 Performance Car Race Simulators offer
Realistic movement
The most popular simulator among (professional) racing drivers
Correct and adjustable seating position
Strong metal and coated frame
Adjustable pedal and handlebar position
Imagine yourself just like Max Verstappen, Lewis Hamilton and  Nick de Vries on the circuits of Monaco, Zandvoort or Bahrain as a real Formula 1 driver! Race through the Maggots, Becketts and Chapel corners and let the Build 4 Performance race Car Simulator move you along. Each leg can move 150 millimeters up and down at lightning speed to simulate the forces of a real F1 car.
The legs of the simulators are electromechanical and self-lubricating, making them virtually maintenance free. In addition, the legs are coated in matte black, making them very scratch-resistant! The platform also feels very natural, so people who suffer from car sickness will have minimal problems in these simulators!
Carbon fiber seat
The carbon fiber seats have the perfect lying position, just like a real Formula 1 car. Build4Performance uses special software that is very easy to operate, so that every user gets the experience they want. 
The movement of the chair is extremely direct, you feel no perceptible delays and the chair is fully adjustable by the end user: this way you always have a perfectly adjusted chair!
High quality
The frame is made of high quality steel and finished with a tough candy orange coating which is scratch resistant. By making smart use of the openings in the frame you can also hide all cables. 
The hardware we use on the motion platforms only gives a delay of 2 milliseconds, this is so little that it is hardly noticeable.
Soundless
The high quality actuators are specially designed in-house and fine-tuned for the Build 4 Performance Race Car simulators.
The bearings and mechanics in the sim's legs are of such high quality that they hardly make any noise. So, in a manner of speaking, you could just race and have your roommate read a book in the same room.
Pedals
The Heusinkveld Ultimate Pedal Set is the best set you can find on the market. It is completely customizable. For example, determine your brake pressure, create your own curve and determine how the brake pressure increases.  
Smooth and precise: The throttle provides just the right amount of tension and rigidity for excellent control of your car.
Direct drive steering wheel
The direct drive steering wheel feels every little bump in the road, just like in real life. The F1 steering wheel simulates under and over-steer perfectly. The steering wheel is equipped with clutch pedals and gearshift paddles.
The buttons on the steering wheel allow you to change your brake pressure, turbo pressure and electric motor position while driving.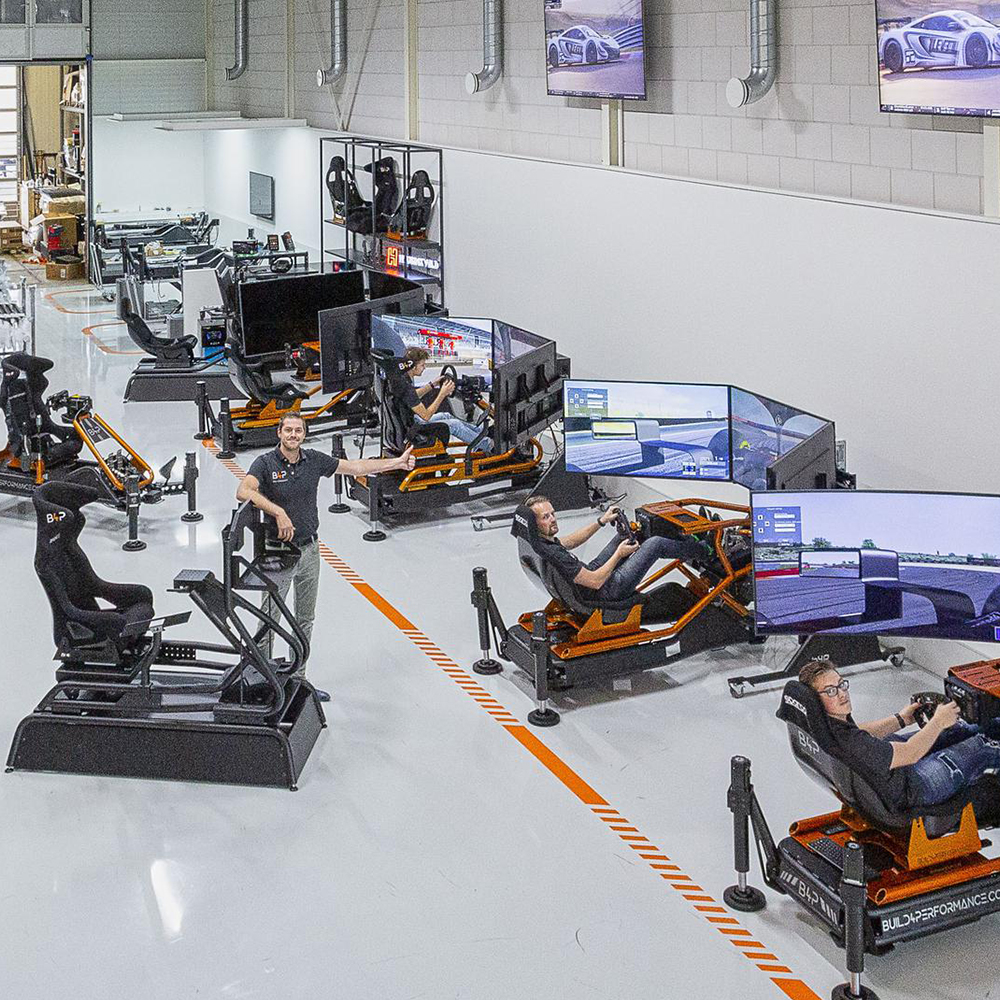 Details
Correct and adjustable seating position
Realistic movements
Strong metal and coated frame
Adjustable pedal and steering wheel position
Ability to use DRS, ERS, Aerodynamics, etc.
Modular
Cable management through the frame
Software only suitable for Windows
Ethernet/USB game control
Seat glides included
LET'S TAKE A DRIVE! DISCOVER NOW!